Last day of spring
March 03, 2019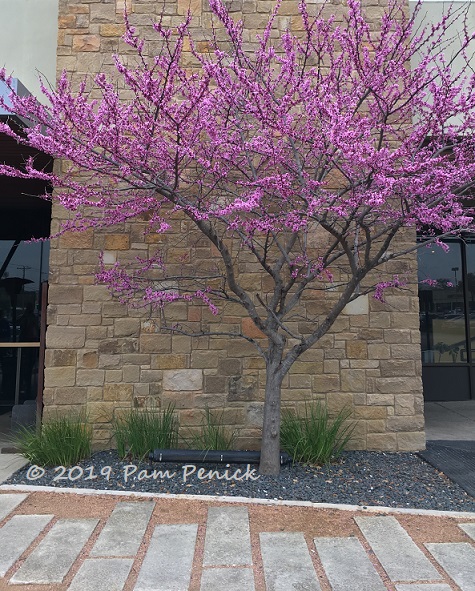 Spring has been unfurling new glories every day, like this beautiful Texas redbud in full bloom on Anderson Lane. But today — boom — an Arctic cold front is blowing temps down into the upper 20s.
Yeah, that's completely normal for this time of year. But it comes at the end of such a mild winter that plants have leapt forward by a few weeks into spring. The coming freezes will kill flower buds and maybe new leaves, and it'll burn back plants like Mexican honeysuckle that are in full bloom in my garden. So I'm whining a bit. Truthfully, maybe a lot. But after all, the first lesson of gardening is, you're not in charge. The second lesson is, plants are resilient, and they'll recover.
Still, grrrr.
I welcome your comments; please scroll to the end of this post to leave one. If you're reading this in a subscription email, click here to visit Digging and find the comment box at the end of each post.
_______________________
Digging Deeper: News and Upcoming Events
Save the date for Austin's Open Day garden tour, sponsored by The Garden Conservancy, to be held Saturday, November 2. There will also be a Fort Worth Open Day tour on October 6. Get info about Open Days all over the country by purchasing the 2019 Open Days Directory.
Join the mailing list for Garden Spark Talks! Hungry to learn about garden design from the experts? I'm hosting a series of talks by inspiring garden designers, landscape architects, and authors. Held in Austin, the talks are limited-attendance events that sell out within just a few days, so join the Garden Spark email list for early notifications. Simply click this link and ask to be added.
All material © 2006-2019 by Pam Penick for Digging. Unauthorized reproduction prohibited.
The post Last day of spring appeared first on Digging.
Related Posts
Everything's coming up roses
Bundle up! It's hot out there
Rocky Mountain High
So long, August
Well, it looks pretty to me
jQuery(document).ready(function( $ ){ jQuery('.yuzo_related_post .yuzo_wraps').equalizer({ columns : '> div' }); });
Read more:
penick.net